NISSAN@HOME
SHOP, DRIVE, AND BUY A NEW NISSAN ANYTIME, ANYWHERE. [*]
NISSAN@HOME AVAILABLE AT PARTICIPATING DEALERS
NISSAN@HOME
The best part of purchasing a new Nissan is what you do after you're behind the wheel. Get to your next adventure faster with NISSAN@HOME at participating Nissan dealers. Take every step of your car buying experience online. [*]
SHOP@HOME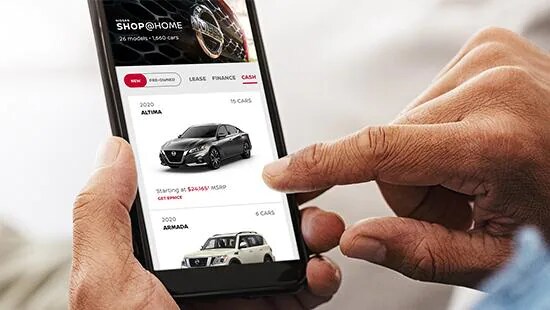 Research tools to take the first step to your new Nissan [*]
BUY@HOME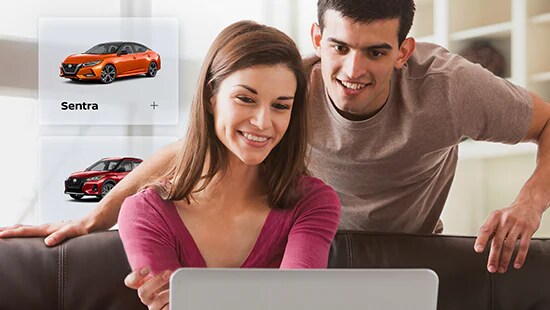 Purchase local inventory online whenever and whenever you want [*]
DRIVE@HOME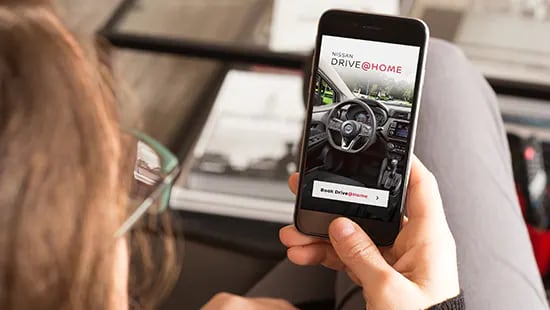 Arrange a test drive that starts right outside your door [*] 
SERVICE@HOME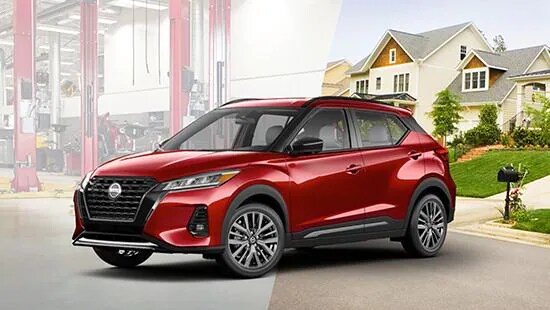 Book maintenance and services online and have your vehicle driven to and from its appointment [*]
SHOP@HOME
Explore every aspect of purchasing a new Nissan at your pace and convenience. Get real pricing on your vehicle of choice, review lease and financing options and execute agreements online. Available at participating Nissan Dealers [*]
BUY@HOME
Available at participating local dealer inventory Choose from participating local dealer inventory 
Fully guaranteed trade-offers
Receive personalized offers
Apply local incentives
Secure financing
Save your progress
Online e-contracting and signing
Schedule Delivery
HOW TO BUY@HOME
After finding the Nissan vehicle that is right for you from the inventory available at a participating Nissan BUY@HOME dealer, you can complete your purchase online. [*]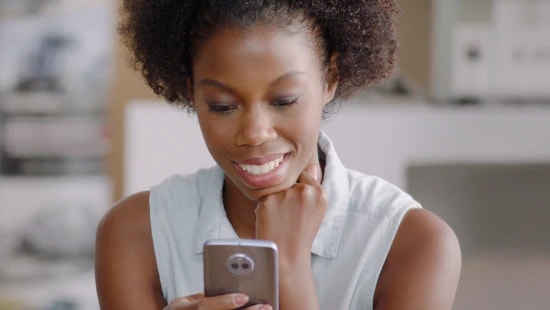 Create an Account
Receive personalized offers to purchase or lease a new Nissan and save your progress.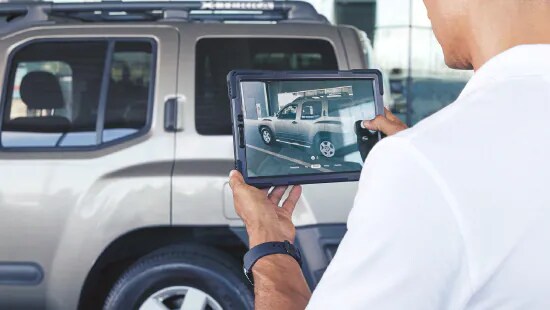 Guaranteed Trade-In
Get the current value of your vehicle, not an estimate.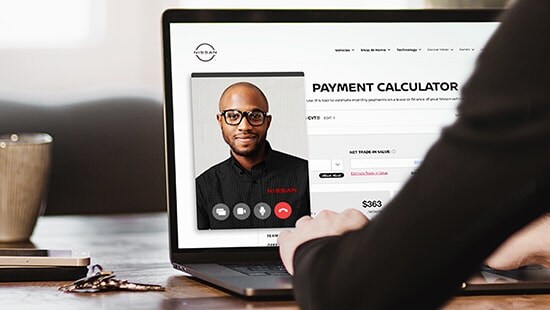 Payment Options
Set your down payment, adjust finance or lease terms, and apply local offers for your actual monthly payment.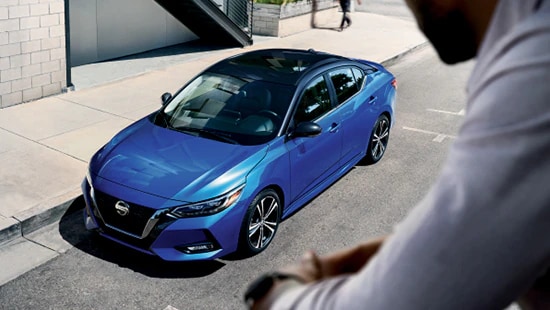 Payment
Select your preferred lender, execute all applicable contracts and schedule your delivery.
DRIVE@HOME
Your nearby participating Nissan dealer will arrange a test drive of the Nissan vehicle of your choice that starts right outside your door. Imagine getting rid of driving to a test drive, forever [*] 
SERVICE@HOME
SERVICE@HOME creates an easy, efficient way to book maintenance and service appointments at your local participating Nissan Dealer online. With service valet, we'll even drive your Nissan to and from the dealership [*]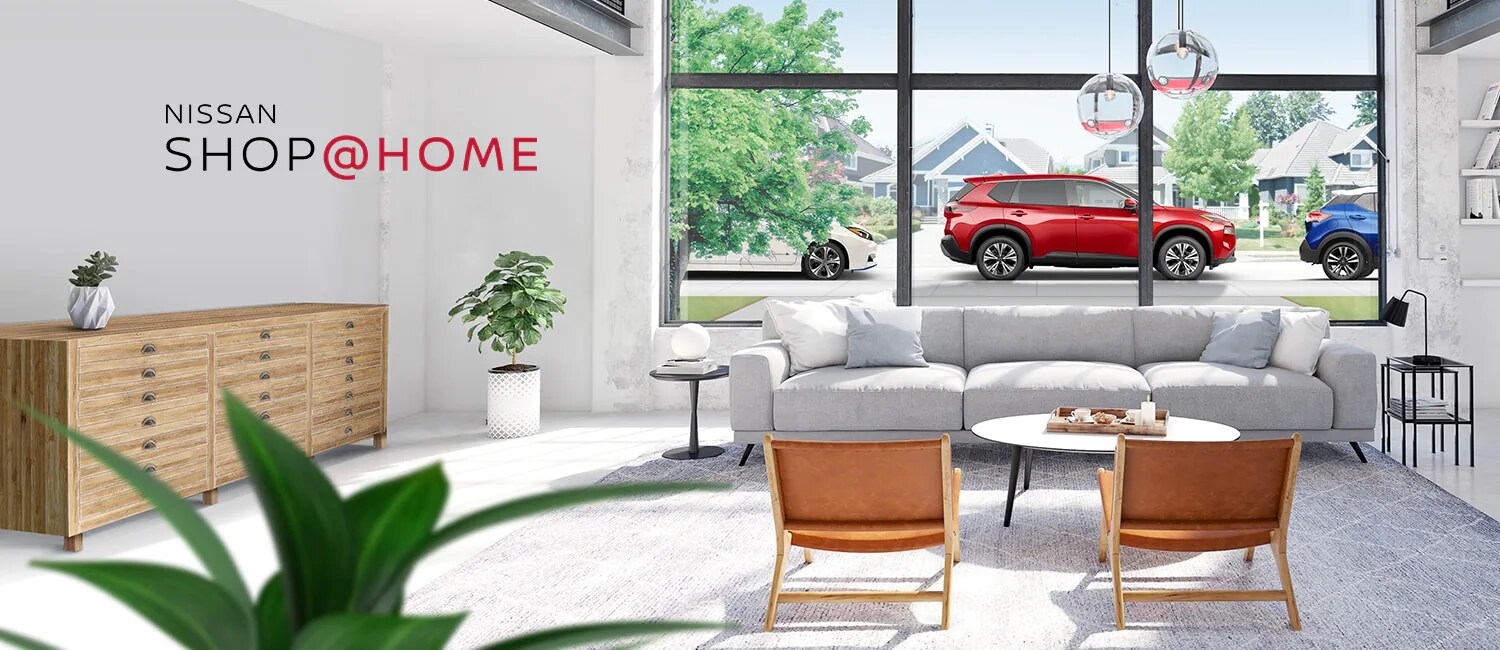 Take advantage of these research tools as you take the first step to adventure in a new Nissan. With SHOP@HOME, when you're ready to test drive or purchase your new car, it will be just the one you're looking for. [*]
How Can We Help?
* Indicates a required field